5 hull parts made of PU resin and a PS pipe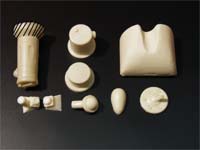 small parts made of resin
Computer milling mashine cutting the alumine parts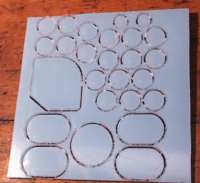 The windows are cut from 5mm Plexiglas (shown with protection foil) and have 246 x 1mm diam bores.
price:
basic kit:


6 hull parts, milled PMMA windows, milled PS-parts, milled aluminium parts, motor assenbly with watertight shaft, spacial prop, pushrod seals, servo mounts, small parts, stickers, plan, english instructions


€ 325,-

compleet kit:

= basic kit
+ equipment tray, ballast system (Gummisack with peristaltic pump and BallastTankSwitch), ballast, lighting kit (10 white LED (3mmø 1200 mcd) with milled reflectors and current regulator board), 250 screw heads


€ 562,-

maxi kit:

= compleet kit
+glue Loctite 406 (20 g), glue Terostat MS, battery (Panasonic 12V 2,2Ah lead acid), speed controller 9Amp, magnetic main switch, BEC, 4 canal switch


€ 720,-

maxi plus kit:

= maxi kit
+ receiver with failsafe (alpha 8.40wW) + 2 digital servos (without paint, transmitter, cristals)

€ 840,-



Interior installation with stern removed. The horizontal plate with all parts on it can be pulled out.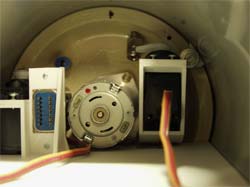 The stern (foto taken before bow was mounted) carries the motor and the rudder servo.
small parts separately:
250 screw heads hex1,5mm nickel plated for the windows € 39,-
10 white LED (3mmø 1200 mcd) with milled reflectors and current regulator board € 27,50
brass prop for DELTA Ø43x26 2-bladed
€ 15,96


Specifications
inch
metric

1:8 modell

Maximum Operations Depth
1200
feet
365
m
( 45 )
m
Cruising Speed
1,5
kn
2,8
km/h
0,98
km/h
Maximum Speed
3,5
kn
6,5
km/h
2,3
km/h
Total Viewports
19
19
Weight(in air)
4800
lbs
2222
kg
4,34
kg
Length
15,5
feet
4,6
m
0,575
m
Beam
3,5
feet
1,1
m
0,1375
m
Heigth
6
feet
1,8
m
0,225
m
Payload
550
lbs
250
kg
( 0,49 )
kg
Power
8x 6V 99Ah
lead acid
12V 2,1Ah
Life Support
144
man-
hours
0
needed material
(adding to compleet kit):

glue:
Terostat MS939 or Sikaflex 221 or comparable Polyurethane glue,
good cyanoacrylate (expensive but best: Loctite 406), 2-component-Epoxi-glue (no 5min Epoxi!)

colours:
yellow, light blue, Alu, primer for plastic

RC equipment:
min.4 channel receiver, 2 standart servos (C508 or S148 or any 20x20x40mm servo), small speed controller 12V 2A with BEC, magnetic main switch. (BallastTankSwitch is included in kit).

battery:
12V 2Ah lead gel battery (178x34x60mm)